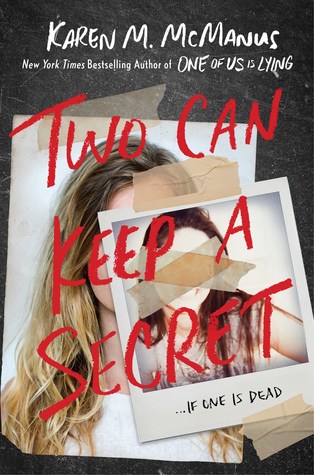 Release Date:
January 8th, 2019
Publisher:
Delacorte Press
Genre:
Young Adult
Pages:
336 Pages
Format:
Hardcover
Source:
Purchased
Reason:
Personal Interest
Find the Author: Website
Buy the Book
Echo Ridge is small-town America. Ellery's never been there, but she's heard all about it. Her aunt went missing there at age seventeen. And only five years ago, a homecoming queen put the town on the map when she was killed. Now Ellery has to move there to live with a grandmother she barely knows.





The town is picture-perfect, but it's hiding secrets. And before school even begins for Ellery, someone's declared open season on homecoming, promising to make it as dangerous as it was five years ago. Then, almost as if to prove it, another girl goes missing.

Ellery knows all about secrets. Her mother has them; her grandmother does too. And the longer she's in Echo Ridge, the clearer it becomes that everyone there is hiding something. The thing is, secrets are dangerous--and most people aren't good at keeping them. Which is why in Echo Ridge, it's safest to keep your secrets to yourself.
"When you come into the world with another person, they're as much a part of you as your heartbeat."
THAT, Ladies and Gentlemen, is how you write a book! Damn! Karen M. McManus proved herself to be a masterful storyteller when she penned One of Us is Lying but Two Can Keep a Secret is an even more delicious thriller that you'll eagerly gobble up.
Two Can Keep a Secret is a heart-pounding thriller that will keep you on the edge of your seat the entire time. The story unfolds through two perspectives, Ellery and Malcolm. Ellery, a True Crime Buff(like myself) finds herself getting deeply invested in the mysterious happenings of Echo Ridge. Her aunt had vanished there at seventeen years old, her disappearance left unsolved, and now more menacing threats are terrorizing the town. Ellery is determined to get to the bottom of it, including the truth of what happened to her aunt. Malcolm was a great perspective to read through. His point-of-view dealt more with the murder that his brother, Declan, found himself in the center of. Both perspectives added great depth to the story. McManus crafted very relatable and powerful characters, both the main and secondary characters.
Two Can Keep a Secret is far from your typical YA Thriller. McManus penned such an intricate web of storylines that you are pushed and pulled every which way. Just when you think you have it all figured out you are spun in the other direction, left guessing until the very end!
I enjoyed every minute of the wild ride that Two Can Keep a Secret took me on. It was thrilling, suspenseful and left me jaw-dropped with its twist of an ending. Karen M. McManus has easily become a favourite author of mine. I can't wait to devour her future work!