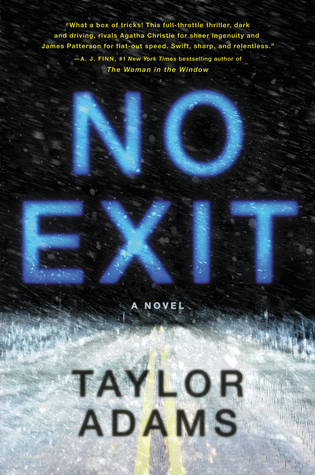 Release Date:
January 15h, 2019
Publisher:
William Morrow
Genre:
Suspense | Mystery
Pages:
336 Pages
Format:
Hardcover
Source:
Purchased
Reason:
Personal Interest
Find the Author: Website
Buy the Book: Amazon CA | Amazon
On her way to Utah to see her dying mother, college student Darby Thorne gets caught in a fierce blizzard in the mountains of Colorado. With the roads impassable, she's forced to wait out the storm at a remote highway rest stop. Inside, are some vending machines, a coffee maker, and four complete strangers.




Desperate to find a signal to call home, Darby goes back out into the storm . . . and makes a horrifying discovery. In the back of the van parked next to her car, a little girl is locked in an animal crate.

Who is the child? Why has she been taken? And how can Darby save her?

There is no cell phone reception, no telephone, and no way out. One of her fellow travelers is a kidnapper. But which one?

Trapped in an increasingly dangerous situation, with a child's life and her own on the line, Darby must find a way to break the girl out of the van and escape.

But who can she trust?
What. A. Ride!! You're going to want to buckle up for this one because it's going to take you on one wild ride!
No Exit far exceeded my expectations. I've been hearing how great it is but I was not expecting just how intense and gripping this book was going to get!
It was a bit of a busy week/weekend for me so I was squeezing in reading whenever I could, and I can tell you that it took so much effort to have to put the book down. It was painful, actually. When I couldn't be reading it, all I could do was think about it. Today, I had nothing to do so I knew I was going to relax out in the sun and devour this wild story.
No Exit hurls twist after twist at you. Sending your mind down a deep spiral of theories and explanations, and debunking each one just as quick. The author penned such a sophisticated storyline. The twists and sudden developments left you in a delicious entanglement that leaves you flying through the pages hungrily.
Each character adds so much value to the plot. It's a small character cast which offers the opportunity for each one to shine. Although this book is dark and chilling, it had a humorous undertone. Darby's quick wit and sarcastic charm provided some comedic relief throughout the entire novel.
This book is a powerhouse! It packs so much punch that will leave your mind reeling. The flawless writing paired with the intense storyline seemed effortless for the author. What a storyteller Taylor Adams is! I loved every minute of this dark and bloody tale. If books were given standing ovations, this would get one that would make Quentin Tarantino jealous!