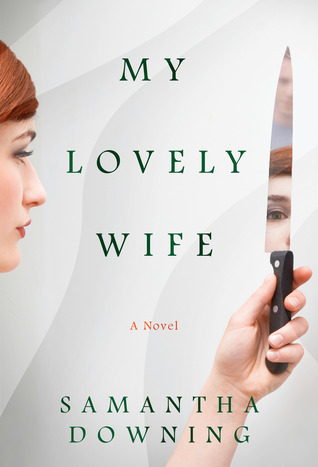 Release Date:
March 26th, 2019
Publisher:
Berkley Books
Genre:
Thriller
Pages:
374 Pages
Format:
Egalley
Source:
Netgalley
Reason:
For Honest Review
Find the Author: Website
Buy the Book
Dexter meets Mr. and Mrs. Smith in this wildly compulsive debut thriller about a couple whose fifteen-year marriage has finally gotten too interesting...


We look like a normal couple. We're your neighbors, the parents of your kid's friend, the acquaintances you keep meaning to get dinner with.




We all have secrets to keeping a marriage alive.




Ours just happens to be getting away with murder.
Our love story is simple. I met a gorgeous woman. We fell in love. We had kids. We moved to the suburbs. We told each other our biggest dreams, and our darkest secrets. And then we got bored.



Whoa, Nelly! What a sinfully delicious book this was! My Lovely Wife will satisfy your craving for a dark, psychological thriller!
When this book was being described as Dexter meets Mr. and Mrs. Smith, I knew I had to give it a try! My Lovely Wife does not disappoint! It ticks all the boxes and so much more when it comes to a suspenseful thriller. In-depth characters, a masterful storyline that keeps you on the edge of your seat, risking papercuts because you are flying through the pages so fast, and a big bang of an ending.
It was a wickedly good read.
My Lovely Wife tells that story of Millicent, her husband, and their white picket fence family. From the outside, it looks like they have the perfect marriage, but their idea of a date night is far different than yours...at least I hope it is... Samatha Downing penned a brilliant and edgy story with characters that you'll come to both love and hate. Millicent was an outstanding character! Although the book isn't told from her perspective, she dominates the story. She is a very strong character. The author crafted a flawless plot that unfolds at a perfect pace. You will eagerly fly through this book, dying to know how it ends!
My Lovely Wife is an epic fast-paced thriller! I would love to see this hit the small or big screen! I couldn't help but picture Jessica Chastain as Millicent and would love to see these characters brought to life. This would make a fantastic, binge-worthy series!