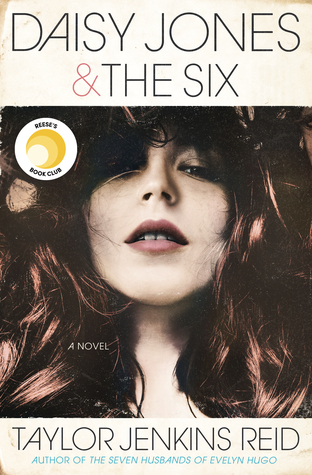 Release Date:
March 5th, 209
Publisher:
Ballentine Books
Genre:
Fiction
Pages:
368 Pages
Format:
Paperback
Source:
Purchased
Reason:
Personal Interest
Find the Author: Website
Buy the Book
Everyone knows Daisy Jones & The Six, but nobody knows the reason behind their split at the absolute height of their popularity . . . until now.




Daisy is a girl coming of age in L.A. in the late sixties, sneaking into clubs on the Sunset Strip, sleeping with rock stars, and dreaming of singing at the Whisky a Go Go. The sex and drugs are thrilling, but it's the rock and roll she loves most. By the time she's twenty, her voice is getting noticed, and she has the kind of heedless beauty that makes people do crazy things.

Also getting noticed is The Six, a band led by the brooding Billy Dunne. On the eve of their first tour, his girlfriend Camila finds out she's pregnant, and with the pressure of impending fatherhood and fame, Billy goes a little wild on the road.

Daisy and Billy cross paths when a producer realizes that the key to supercharged success is to put the two together. What happens next will become the stuff of legend.

The making of that legend is chronicled in this riveting and unforgettable novel, written as an oral history of one of the biggest bands of the seventies. Taylor Jenkins Reid is a talented writer who takes her work to a new level with Daisy Jones & The Six, brilliantly capturing a place and time in an utterly distinctive voice.
"We love broken, beautiful people. And it doesn't get much more obviously broken and more classically beautiful than Daisy Jones."
Every once and a while you will come across a book that will completely embed itself into your heart and soul. Despite the fact that the story is fictional, it's characters not real, it will nestle itself deep within you and leave an imprint that only a small few have done before. This book did exactly that. Daisy Jones and the Six has buried itself into my heart and will stay there forever.
Daisy Jones and the Six follows the rise and eventual fall of the fictional band by the same name. It is a cocaine-fulled, whiskey-soaked, rock n' roll adventure that will have your heart pounding, aching and breaking. Taylor Jenkins Reid created magic. She penned some of the most diverse characters that you will fall utterly in love/hate with. You will love these characters so fiercely that they will bring to the surface some of your deepest emotions. They will make you laugh, cry, cringe and bubble with anger. It is one brilliant dysfunctional family.
The story unfolds in an interview style with each character, and I loved that delivery. I found it really gave us a personal and intimate reading experience rather than the book told to us through multiple perspectives through chapters or through the point of view of the author. The delivery really added to the beautiful tone of the novel.
This was my first book by Taylor Jenkins Reid, but it will not be my last. Her writing is absolutely impeccable. Flawless. Her words flowed lyrically off of the pages. The story was so expressive and emotional.
Daisy Jones and the Six is a beautiful chaos that will leave you breathless. Cancel your plans because you will not be able to put this book down until you finish!
**I also learned that this is being adapted into an Amazon series! Whoo hoo!**