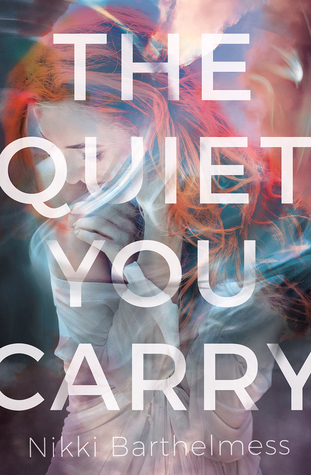 Release Date:
March 5th, 2019
Publisher:
Flux
Genre:
Young Adult
Pages:
272 Pages
Source:
Netgalley
Reason:
For Honest Review
Find the Author:Website
Buy the Book
Victoria Parker knew her dad's behavior toward her was a little unusual, but she convinced herself everything was fine—until she found herself locked out of the house at 3:00 a.m., surrounded by flashing police lights.




Now, dumped into a crowded, chaotic foster home, Victoria has to tiptoe around her domineering foster mother, get through senior year at a new school, and somehow salvage her college dreams . . . all while keeping her past hidden.

But some secrets won't stay buried—especially when unwanted memories make Victoria freeze up at random moments and nightmares disrupt her sleep. Even worse, she can't stop worrying about her stepsister Sarah, left behind with her father. All she wants is to move forward, but how do you focus on the future when the past won't leave you alone?
"No one can really see the quiet you carry, unless you let them."
When looking at the people around you, know that each one is dealing with something in their lives. It may be small or it could be so massive, it is taking everything in them just to get one foot in front of the other. Everyone is carrying something.
I was not sure what to expect when I first began reading The Quiet You Carry. I knew it was probably going to be tough at times, and I knew it would probably stir up some emotion; what I was not expecting was how invested I would become with Victoria and her story. My heart absolutely ached for her. Victoria may be a fictional character, but her story is very real for many, many youths in the world. There are far too many children that have been failed by their parents/guardians and by the foster system. Victoria's story struck a chord with me. I cannot relate on a personal level the horrors of manipulation and abuse she went through, but I experienced a great amount of sympathy for her.
The author states that she entered the foster care system when she was 12. I feel she represented the thoughts and feelings of children in foster care authentically. I truly believe they will find solace in her book. They will find a friend, and maybe, hopefully, will not feel so alone.
Her writing was absolutely beautiful. She translated a heart-wrenching story into a hauntingly beautiful novel. Despite the ugliness that Victoria had to endure, she still had a softness and light to her.
The Quiet You Carry is far more than a book. It is a voice. It is a voice for the children and youth that had theirs stolen from them. It is an advocate. A supporting ally.