Release Date:
November 29th, 2011
Publisher:
Putnam Juvenile
Genre:
Young Adult
Pages:
305 Pages
Series:
Legend #1
Format:
Paperback
Source:
Purchased
Reason:
Personal interest
What was once the western United States is now home to the Republic, a nation perpetually at war with its neighbors. Born into an elite family in one of the Republic's wealthiest districts, fifteen-year-old June is a prodigy being groomed for success in the Republic's highest military circles. Born into the slums, fifteen-year-old Day is the country's most wanted criminal. But his motives may not be as malicious as they seem.

From very different worlds, June and Day have no reason to cross paths—until the day June's brother, Metias, is murdered and Day becomes the prime suspect. Caught in the ultimate game of cat and mouse, Day is in a race for his family's survival, while June seeks to avenge Metias's death. But in a shocking turn of events, the two uncover the truth of what has really brought them together, and the sinister lengths their country will go to keep its secrets.
I'm am SO late to the party on this one! I am trying to knock off some of the books that I have had sitting on my shelf FOREVER.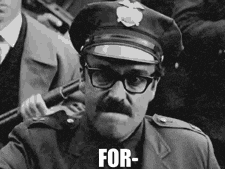 Since its release, I have heard so many amazing things about this series, so I know that it was the first book I was going to go for! I devoured this book in one sitting. It grabbed my attention immediately and I just flew through the pages. Before I knew it, I turned the last page and the book was over(sadly). I definitely see what everyone was raving about. This book is AH-MAZING! An intense plot paired with fantastic characters made for a fast-paced, edge of your seat reading experience!
Legend
is packed in a small 305-page package but don't let that fool you. It keeps your heart pounding from beginning to end. It packs a lot of punch that will leave you breathless. I
adored
Day. His story is heart-wrenching but he is a fighter. He is so strong yet humble. June will have you screaming GIRL POWER. She is fierce!
I am hating myself for waiting so long to read this book but I am so glad I finally did. I have already ordered the rest of the series and am anxiously awaiting the mailman's arrival!