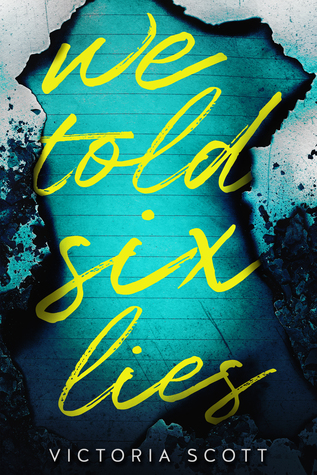 Release Date:
February 5th, 2019
Publisher:
Entangled Teen
Genre:
Young Adult | Thriller
Pages:
352 Pages
Format:
Egalley
Source:
Netgalley
Reason:
For Honest Review
Find the Author: Website
Buy the Book:
Amazon CA
|
Amazon
Remember how many lies we told, Molly? It's enough to make my head spin. You were wild when I met you, and I was mad for you. But then something happened. And now you're gone.





But don't worry. I'll find you. I just need to sift through the story of us to get to where you might be. I've got places to look, and a list of names.

The police have a list of names, too. See now? There's another lie. There is only one person they're really looking at, Molly.

And that's yours truly.
Buckle up because this book is going to take you on one wild ride! I read this book on my Kindle while at the gym and I swear it made me amp up my Cardio! I was flying through the pages so fast, devouring every word and eager to know how everything unraveled.
The book is told from the position of Now, Then, and Molly; Now and Then is from Cobain's perspective. I love that Victoria Scott crafted it this way. It was delivered flawlessly and really added to the overall suspense and intensity of the story.
Scott also created outstanding characters. Cobain is somewhat of an outcast and when he meets his match in Molly, a uniquely beautiful, slightly broken girl, Cobain is almost immediately infatuated by her. It's not long that he is fallen under Molly's spell. Molly comes from a past that resulted in her putting up the highest, most cemented walls around her heart. She doesn't allow many, if any at all, to see her true self. These traits of Molly's play a big role in the story. We Told Six Lies will have you questioning everything. You'll think that you have it all figured out only to have your theories ripped to shreds.
We Told Six Lies has many side stories and flashbacks but they are all vital to the overall story. The Author gives you a lot of great background story yet it doesn't feel bogged down or too detailed. It was a necessity for the novel and it was all unpacked beautifully.
Victoria Scott created a fast-paced, nail-biting reading experience. It's not the most unpredictable storyline yet she penned it in such a way that will leave you breathless and jaw-dropped. I loved every minute of it!