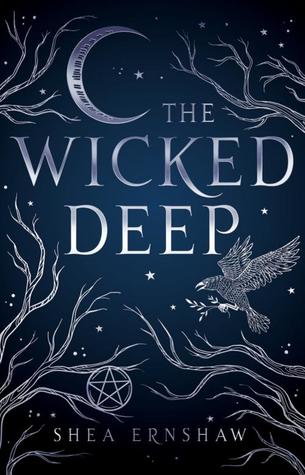 Release Date:
March 6th, 2018
Publisher:
Simon Pulse
Genre:
Young Adult
Pages:
320 Pages
Format:
E
-
galley
Source:
Netgalley
Reason:
For Review
Find the Author: Website
Buy the Book: Amazon
Welcome to the cursed town of Sparrow…

Where, two centuries ago, three sisters were sentenced to death for witchery. Stones were tied to their ankles and they were drowned in the deep waters surrounding the town.

Now, for a brief time each summer, the sisters return, stealing the bodies of three weak-hearted girls so that they may seek their revenge, luring boys into the harbor and pulling them under.

Like many locals, seventeen-year-old Penny Talbot has accepted the fate of the town. But this year, on the eve of the sisters' return, a boy named Bo Carter arrives; unaware of the danger he has just stumbled into.

Mistrust and lies spread quickly through the salty, rain-soaked streets. The townspeople turn against one another. Penny and Bo suspect each other of hiding secrets. And death comes swiftly to those who cannot resist the call of the sisters.

But only Penny sees what others cannot. And she will be forced to choose: save Bo, or save herself.
MORAL OF THE STORY:
WHEN PEOPLE SAY THE TOWN IS CURSED, LISTEN TO THEM!
For fans of Hocus Pocus and Practical Magic? YES PLEASE!
The Wicked Deep is about 3 Sisters who were sentenced to their death two hundred years ago for Witchery. Every Summer they come back, inhabit the bodies of young girls so they can entrance and drown boys for their own sweet revenge.
This was one. Epic. Read. The Wicked Deep hooks you from the very beginning. It blankets the salty sea air around you, sings its sweet song in your ear and doesn't let you go. Not even after you've finished the last page. You'll be left cast under its spell, still captivated by it.
I may question Shea Ernshaw of witchery myself for creating such a spell-binding and addictive tale! Ernshaw crafted such compelling characters. Their stories unfolding at a beautiful pace. I loved the romance between Bo and Penny. It wasn't a cliche or your typical young adult love story.
The story itself had a great flow! Not once did I feel that it lagged or that any part of it was rushed. Each chapter ended in a way that made you want to move on to the next. It was nearly impossible to put down! It is a unique and fresh take on other Witch stories out there. The Swan sisters stand out strong against the popular genre. It's haunting and dark yet magical and lovely. The Wicked Deep will appeal to all readers, not just for fans of the Young Adult genre. This book is just begging to be filmed. I would love to see it hit the big or small screen.
The Wicked Deep will take you on an eerie and memorable adventure. Your heart will flutter and ache and the Swan Sisters will remain with you long after you've finished.
"We wait for death. We hold our breath. We know it's coming, and still we flinch when it claws at our throats and pulls us under."