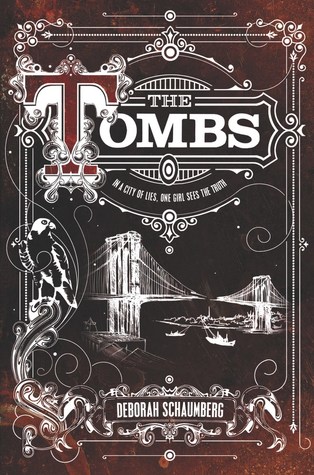 Release Date:
February 20th, 2018
Publisher:
HarperTeen
Genre:
Young Adult
Pages:
448 Pages
Format:
Hardcover
Source:
From publisher
Reason:
For honest review
Find the Author: Website
Buy the Book
New York, 1882. A dark, forbidding city, and no place for a girl with unexplainable powers.




Sixteen-year-old Avery Kohl pines for the life she had before her mother was taken. She fears the mysterious men in crow masks who locked her mother in the Tombs asylum for being able to see what others couldn't. Avery denies the signs in herself, focusing instead on her shifts at the ironworks factory and keeping her inventor father out of trouble. Other than secondhand tales of adventure from her best friend, Khan, an ex-slave, and caring for her falcon, Seraphine, Avery spends her days struggling to survive.




Like her mother's, Avery's powers refuse to be contained. When she causes a bizarre explosion at the factory, she has no choice but to run from her lies, straight into the darkest corners of the city. Avery must embrace her abilities and learn to wield their power—or join her mother in the cavernous horrors of the Tombs. And the Tombs has secrets of its own: strange experiments are being performed on "patients"…and no one knows why.
MORAL OF THE STORY:
PEOPLE IN CROW MASKS ARE NEVER GOOD NEWS
Like a boss! That my friends, is how Deborah Schaumberg blasted into the YA Book scene. If this is her debut, I cannot wait to see what else she has in store!
I knew as soon as I laid my eyes on the stunning cover of The Tombs that I had to have it, now! I know they say not to judge a book by its cover, but look at that beauty! How can you possible ignore it's calling to you?! As soon as it arrived, I dove right in, head first. Kissing goodbye anything else life was throwing my way until I was done reading it. Who needs work, sleep or food when you can be reading, right? The Tombs did not disappoint. Between that gorgeous cover was a haunting yet beautiful tale about a girl and her mother.
The Tombs is told from the perspective of Avery Kohl. A sixteen year old girl that is trying to make sense of her life and the visions that are troubling her. The very same powers that has her mother locked up in an asylum, the tombs. Avery is a just trying to navigate life, working at the ironworks and living with her father, who is battling his own demons. But, after a series of events Avery is given no choice but to accept this gift that she has within her and fight. Fight for herself, her mother and all of those around her.
Deborah Schaumberg's writing is absolutely beautiful. It flows so effortlessly off of the pages. She penned a tale that will take you on a wild ride. The author transports you from your reading nook right into 19th century New York. A time when New York is evolving at a rapid pace. She crafted such a sensational cast of characters. The secondary characters are just as prominent of as the main characters. She also did a wonderful job at the back story of each character. We were given bits and pieces throughout the story, just as if you were truly getting to know someone.
The Tombs is so much more than a story about a girl. It tackles race and discrimination. It touches on the hardships people had to live through just so they could be who they are. It is about a daughters love. I adored every single moment of this book. It was a powerful reading experience that has left me with a major book hangover!