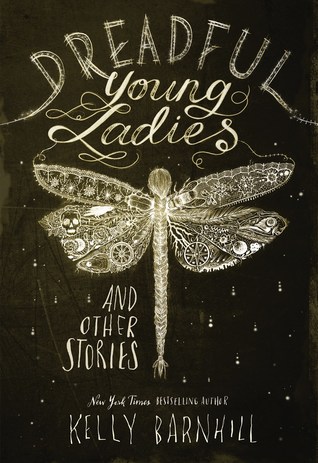 Release Date:
February 20th, 2018
Publisher:
Algonquin Books
Genre:
Short Stories | Fiction
Pages:
304 Pages
Format:
ARC
Source:
From Publisher
Reason:
For honest review
Find the Author: Website
Buy the Book: Amazon
From award-winning,

New York Times

bestselling author Kelly Barnhill comes a stunning collection of stories, teeming with uncanny characters whose lives unfold in worlds at once strikingly human and eerily original.
MORAL OF THE STORY:
BUCKLE UP! YOU'RE IN FOR A WILD RIDE!
Dreadful Young Ladies is my first experience with Kelly Barnhill's writing and I can confidently say that she did not disappoint. I have currently ordered The Girl Who Drank the Moon and am eagerly awaiting it's arrival!
This collection of short stories will take you on a fun and eerie ride. You will fall down a rabbit hole of obscurity floating past creatures and dazzling characters. I found this collection of stories to be a quick read. Each one so very different and just as memorable than the last! It really made for a fun reading experience that will most definitely have your imagination running wild.
The cover art is absolutely beautiful as well. The little trinkets and images that make up the wings and the long braid of hair for the body just confirm what kind of time you're in for when you crack this one open!
It is SO hard to pick a favourite but I have to say that the novella, The Unlicensed Magician was absolutely spectacular. All stories shined brightly on their own but this one just stole my heart!
If you're in the mood for something unlike anything you've ever read than Dreadful Young Ladies and Other Stories is for you. Dive into the unknown and enjoy the ride!