Release Date:
March 20th, 2018
Publisher:
Little, Brown Books for Young Reader
Genre:
Young Adult
Pages:
480 Pages
Format:
ARC
Source:
From Publisher
Reason:
For an honest review
Find the Author: Website
Buy the Book: Amazon
Leigh Chen Sanders is absolutely certain about one thing: When her mother died by suicide, she turned into a bird.




Leigh, who is half Asian and half white, travels to Taiwan to meet her maternal grandparents for the first time. There, she is determined to find her mother, the bird. In her search, she winds up chasing after ghosts, uncovering family secrets, and forging a new relationship with her grandparents. And as she grieves, she must try to reconcile the fact that on the same day she kissed her best friend and longtime secret crush, Axel, her mother was taking her own life.




Alternating between real and magic, past and present, friendship and romance, hope and despair,

The Astonishing Color of After

is a novel about finding oneself through family history, art, grief, and love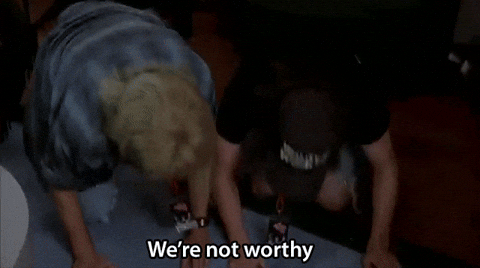 This would be my genuine reaction if I were to ever be blessed with the presence of author, Emily Pan. Well done, Emily, well done! The Astonishing Color of After is one of the best books I've read in 2018...No, wait, it's one of the best books I've read ever. Now that I am done fangirling, let me get serious.
The Astonishing Color of After tells the story of Leigh Chan Sanders, a teenage girl that is grieving the loss of her mother who committed suicide. Leigh is a beautiful character. Her artistic personality radiates off of the pages. To see the world through her eyes was quite the reading experience. The book is definitely a colourful read; it's hues ranging from vibrant yellows to the deep, endless shades of black. It tackles the heavy subject matter of suicide and the ripple of it's after effects. The grief, turmoil and all of the unanswered questions. Emily Pan delivers this in a delicate yet raw and honest way. Leigh is angry, she is frustrated and she is desperate. Desperate to found out the why.

The author takes you on Leigh's journey to find out the truth and to unravel the phenomenon that is taking place regarding the mysterious bird that might be her mother. The Astonishing Color of After unfolds at a wonderful pace, alternating between past and present. Giving you little pieces of the puzzle to put together along with Leigh. You will be taken on a breathtaking journey, one both haunting yet magical. Emily Pans writing style is enough reason to fall in love with the book. It's lyrical and poetic and flows effortlessly off of the pages. But Pan backs up her writing style with an astonishingly beautiful story about a girl. A girl who is just as desperate to find herself as she is to find out why her mother decided to end her life. You will laugh, you will most definitely cry and you will never, ever forget the extraordinary story of Leigh and her bird.

"There's no point in wishing. We can't change anything about the past. We can only remember. We can only move forward."