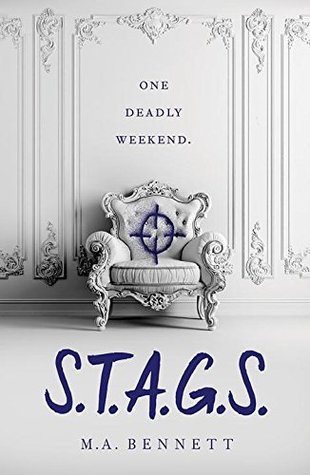 Release Date:
January 30th, 2018
Publisher:
Penguin Teen
Genre:
Young Adult
Format:
NetGalley
Source:
From Publisher
Reason:
For Review
Find the Author:
Twitter
Buy the Book: AmazonCA | Amazon
Seventeen-year-old Greer, a scholarship girl at a prestigious private school, St Aidan the Great School (known as STAGS), soon realizes that the school is full of snobs and spoilt rich brats, many of whom come from aristocratic families who have attended the institute throughout the centuries. She's immediately ignored by her classmates. All the teachers are referred to as Friars (even the female ones), but the real driving force behind the school is a group of prefects known as the Medievals, whose leader, Henry de Warlencourt, Greer finds both strangely intriguing as well as attractive. The Medievals are all good-looking, clever and everyone wants to be among their circle of friends. Greer is therefore surprised when she receives an invitation from Henry to spend a long weekend with him and his friends at his family house in the Lake District, especially when she learns that two other "outsiders" have also been invited: Shafeen and Chanel. As the weekend unfolds, Greer comes to the chilling realization that she and two other "losers" were invited only because they were chosen to become prey in a mad game of manhunt.
MORAL OF THE STORY:
IF YOU RECEIVE AN INVITE TO GO HUNTIN', SHOOTIN' AND FISHIN', DECLINE!
S.T.A.G.S. was such a fun and thrilling reading experience. A refreshing storyline and a superb character cast made this book a wildly good time!
Greer is a seventeen-year-old girl that isn't quite fitting in at St. Aidan the Great School(STAGS). Filled with pretentious snobs and spoiled rich kids but the Medievals are the real rulers of STAGS. A group teenagers with perfectly coiffed hair and bedazzling beauty. In this group is Henry de Warlencourt, the leader of the pack. It is at Henry's estate where the Huntin' Shootin' and Fishin' party is hosted every year. Greer and 2 other "outsiders" are invited to this extravagant weekend and the games quickly begin!
Bennett crafted a witty and gripping tale that left me both jaw-dropped and amazed. Her writing style had so much depth and crafted such wonderful and unique characters. I also have to point out the epic movie references. As a movie buff myself, I loved every shoutout to all the great flicks and now I feel I need to sit down for an awesome movie night in honour of this book.
I know this may sound like a totally savage thing to say but I would love to see this book hit the silver screen. I think it would make a phenomenal Netflix series! I could totally see Lucky Blue Smith and Amandla Stenberg starring in this!
Henry de Warlencourt Greer
Though this novel is considered a Young Adult, I think any audience who's looking for a rip-roaring good time would enjoy this book!
"Well, Jeffrey," I said, trying to style it out, "Shit just got real."