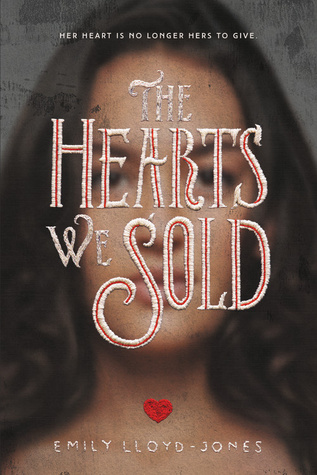 Release Date:
August 8th, 2017
Publisher:
Little Brown | Hachette Canada
Genre:
Young Adult
Pages:
400 Pages
Format:
ARC
Source:
From publisher for review
Find the Author: Website
Buy the Book:
Amazon CA
|
Amazon
When Dee Moreno makes a deal with a demon—her heart in exchange for an escape from a disastrous home life—she finds the trade may have been more than she bargained for. And becoming "heartless" is only the beginning. What lies ahead is a nightmare far bigger, far more monstrous than anything she could have ever imagined.




With reality turned on its head, Dee has only a group of other deal-making teens to keep her grounded, including the charming but secretive James Lancer. And as something grows between them amid an otherworldy ordeal, Dee begins to wonder: Can she give someone her heart when it's no longer hers to give?
Step away from Netflix and discover your new favourite binge,
The Hearts We Sold
. I couldn't and wouldn't put this book down. I devoured it hungrily, eager to learn more about these characters, their stories and what would become of them.
The Hearts We Sold
is a gothic folklore tale threaded into the modern day and lands right into YA literature, WHAT IS NOT TO LOVE?!
We are immediately introduced to Dee(Deidre) Moreno, a teenage girl who makes a deal with a demon for a chance at a better life. Dee's story unfolds throughout the novel and it becomes more and more clear why she felt the need to make that desperate decision. On the surface, she seems like your average teenage girl who attends boarding school, but Dee has become an expert at keeping her family issues a secret. The book is told from Dee's perspective but Lloyd-Jones does a superb job at making every character shine in this novel. She penned an eclectic cast of characters; all kinds of personalities decorate this eerie tale.
The concept of
The Hearts We Sold
is so unique. The vibrant characters and rare storyline make it a very refreshing reading experience. What I loved most about this novel though was the strong message that can't help but shine through. This book is about perseverance, resilience, and courage. It's about a group of people that were assigned to each other but become so much more than that. They become a family. The learn to care for each other, love each other and fight for each other instead of just for themselves. These qualities cannot be missed. Emily Lloyd-Jones created a camaraderie between her characters, a togetherness. It is also a coming-of-age story. A story about self-discovery and growth.
I loved every minute of
The Hearts We Sold
and have been thinking about it every since I put it down. It's a beautiful, dark and at times, disturbing tale that will sink its teeth into you and simply
steal
your heart.