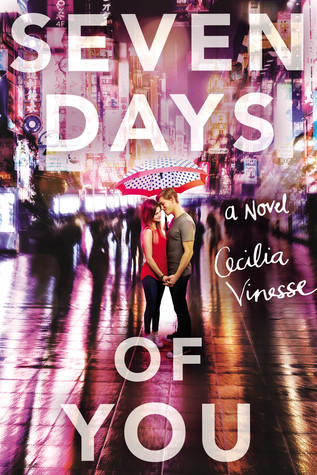 Release date:
March 7th, 2017
Publisher:
Hachette Canada
Genre:
Young Adult
Pages:
336 Pages
Format:
Arc
Source:
From publisher
Reason:
For review
For Fans Of:
Just One Day, Eleanor and Park
Find the Author: Website
Buy the Book: Amazon CA | Amazon
Sophia has seven days left in Tokyo before she moves back to the States. Seven days to say good-bye to the electric city, her wild best friend, and the boy she's harbored a semi-secret crush on for years. Seven perfect days…until Jamie Foster-Collins moves back to Japan and ruins everything.
Jamie and Sophia have a history of heartbreak, and the last thing Sophia wants is for him to steal her leaving thunder with his stupid arriving thunder. Yet as the week counts down, the relationships she thought were stable begin to explode around her. And Jamie is the one who helps her pick up the pieces. Sophia is forced to admit she may have misjudged Jamie, but can their seven short days of Tokyo adventures end in anything but good-bye?
Pack your bags, because you're going on a beautiful trip to Tokyo! Not really, but it sure feels like it with Vinesse's beautiful descriptions and scenery. I could see the bright
sparkling
lights, I could smell the dew left over from the rain, I could feel and hear the life of the city. She brought the city to life, making it leap off the pages.
Now, this book would have been good with just what was mentioned above. But, Vinesse's talent doesn't end when it comes to world building. She also has the ability to craft fantastic characters, penning them with their own unique personalities, each one offering so much to the story. I adored Sophia. She had a great sense of humour and got in many jabs to her friends throughout the book that made for some great laugh out loud moments. Yet, beneath her bubbly personality, she was vulnerable and still dealing with the divorce of her parents even though it was years in the past. That comes to light throughout the novel, unfolding slowly, giving you more to the story as it goes on.
The chemistry between Jamie and Sophia radiates off the pages, intensifying more and more as their friendship and romance blossoms.
I devoured
Seven Days of You
in 2 short hours. I simply could not peel my eyes away. I was cast under a romantic spell and the story of a girl, finding out who she is and where she truly belongs. Where, What or Who she will call home.
This was a March release but it is the most perfect book to spend reading out in the sun! You will not be able to put it down!