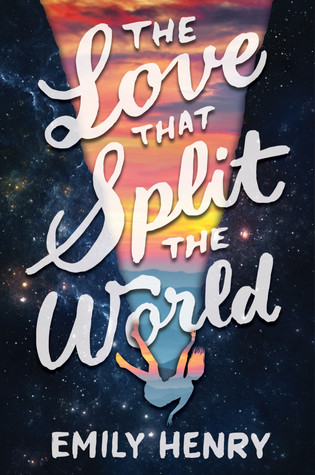 Release Date: January 16th, 2016
Publisher: Razorbill | Penguin Canada
Genre: Young Adult
Pages: 396 Pages
Format: Hardcover
Source: Purchased
Reason: Personal Interest
Find the Author: Goodreads
Buy the Book: Amazon CA | Amazon
Natalie Cleary must risk her future and leap blindly into a vast unknown for the chance to build a new world with the boy she loves.




Natalie's last summer in her small Kentucky hometown is off to a magical start... until she starts seeing the "wrong things." They're just momentary glimpses at first—her front door is red instead of its usual green, there's a pre-school where the garden store should be. But then her whole town disappears for hours, fading away into rolling hills and grazing buffalo, and Nat knows something isn't right.




That's when she gets a visit from the kind but mysterious apparition she calls "Grandmother," who tells her: "You have three months to save him." The next night, under the stadium lights of the high school football field, she meets a beautiful boy named Beau, and it's as if time just stops and nothing exists. Nothing, except Natalie and Beau.




Emily Henry's stunning debut novel is Friday Night Lights meets The Time Traveler's Wife, and perfectly captures those bittersweet months after high school, when we dream not only of the future, but of all the roads and paths we've left untaken.
Firstly, look at that cover...Go ahead, I'll wait...Isn't it eye catching?! I know, I know, never judge a book by it's cover right? But this one gave me some serious cover envy. It's so enchanting. Almost Alice in Wonderland-like. As if the girl in the cover is falling down the rabbit hole; The initial reason I was drawn to this book was it's cover, then came the premise, how
mysterious
.
The Love that Split the World
was screaming READ ME! So, I eagerly obliged.
This is one of those books that are really hard to review. I'm not struggling because this book had issues, in fact, it's the complete opposite! This book was unlike anything I've really read before. It is not your average Time Travel book, and I use the term 'Time Travel' lightly because I wouldn't even call it that. World-hopping? I don't know what to call it, but it was great! It's also not your average YA love story. Beau and Natalie share a chemistry that goes way beyond swoon-worthy good looks and butterflies in the stomach. They share a connection that radiates off the pages. A connection vibrates between them, even before their first kiss you can feel the strength of the bond between these 2 characters.
When it came to Natalie, I adored her. She was equipped with a hilarious dry, sarcastic humour, smarts and a heart of gold. She also had the ability to make you feel every single thing she was feeling. Her emotions ran wild throughout the story and she took you with her. She whirled her story around your head and spun you in a sea of beautiful stories, love and, at times, extreme heartache.
Grandmother was another spectacular character. Her beautifully woven stories will be unlike anything you've ever heard. You will devour every single word of each story she shares. She was a true gem.
The Love that Split the World
goes beyond time travel and romance. It is a story of a girl trying to find her place in the world and her heart-pounding journey to keep her place in it. It has laughs, thrills and chills. You will fall in love with
The Love that Split the World
!