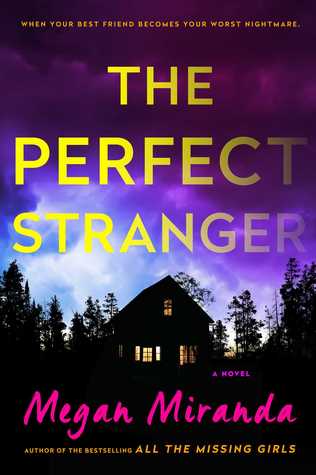 Release Date:
May 16th, 2017
Publisher:
Simon and Schuster
Genre:
Mystery and Thriller
Pages:
352 Pages
Format:
Arc
Source:
From Publisher
Reason:
For Review
Find the Author: Website
Buy the Book:
Amazon CA
|
Amazon
Confronted by a restraining order and the threat of a lawsuit, failed journalist Leah Stevens needs to get out of Boston when she runs into an old friend, Emmy Grey, who has just left a troubled relationship. Emmy proposes they move to rural Pennsylvania, where Leah can get a teaching position and both women can start again. But their new start is threatened when a woman with an eerie resemblance to Leah is assaulted by the lake, and Emmy disappears days later.

Determined to find Emmy, Leah cooperates with Kyle Donovan, a handsome young police officer on the case. As they investigate her friend's life for clues, Leah begins to wonder: did she ever really know Emmy at all? With no friends, family, or a digital footprint, the police begin to suspect that there is no Emmy Grey. Soon Leah's credibility is at stake, and she is forced to revisit her past: the article that ruined her career. To save herself, Leah must uncover the truth about Emmy Grey—and along the way, confront her old demons, find out who she can really trust, and clear her own name.

Everyone in this rural Pennsylvanian town has something to hide—including Leah herself. How do you uncover the truth when you are busy hiding your own?
I have been delving out of my reading comfort zone and trying different genres I don't typically read. Lately, I have been really interested in the Mystery and Thriller genre. Is there anything better than a book causing a chill up your spine or goosebumps to rise from your skin?
The Perfect Stranger
did all of that and more!
This is my first book by Megan Miranda but I have already gone out and purchased 2 of her previous books: Fracture and Eleven Minutes. Miranda has a true talent for storytelling! Crafting in-depth characters and penning a visual setting that made this book even more addicting and even harder to put down.
T
his book is being called the follow-up to
All the Missing Girls
. I have not read this book so do not know if it carries any similarities or if it's just the author's most recent work. But if it does, I can assure you that
The Perfect Stranger
stands strong as a stand alone. There were no moments where I was left lost or confused in any way!
I really liked Leah Stevens and thought she was a wonderful main character. I've noticed there is a bit of a love/hate relationship with her and other readers, but I for one, loved her!
What I've come to love is a good whodunnit kind of story and
The Perfect Stranger
definitely quenched by thirst when it came to that! I was flying through the pages
dying
to get answers to the questions that were popping up in my mind.
Megan Miranda delivered an addictive mystery that had me on the edge of my seat from beginning to end. I can't wait to dive into her previous and future work!