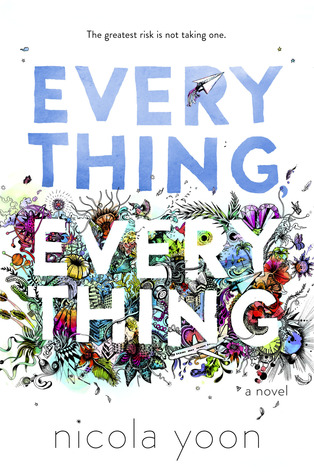 Release Date: September 1st, 2015
Publisher: Delecorte Books for Young Readers
Genre: Young Adult
Pages: 310 Pages
Format: Hardcover
Source: Purchased
Reasons: Personal Interest
Find the Author: Website
My disease is as rare as it is famous. Basically, I'm allergic to the world. I don't leave my house, have not left my house in seventeen years. The only people I ever see are my mom and my nurse, Carla.




But then one day, a moving truck arrives next door. I look out my window, and I see him. He's tall, lean and wearing all black—black T-shirt, black jeans, black sneakers, and a black knit cap that covers his hair completely. He catches me looking and stares at me. I stare right back. His name is Olly.




Maybe we can't predict the future, but we can predict some things. For example, I am certainly going to fall in love with Olly. It's almost certainly going to be a disaster.
Ok, y'all. Can someone explain to me why the hell I waited so long to read this book? Like, seriously?! I have a 'Read before I Watch' rule, If any book is hitting the big screen and it's a movie I want to see, then I want to read it before I see it. The minute I heard all the fuss over
Everything, Everything,
I knew I had to my hands on it.
Now, fast forward 2 hours when I completed this lovely, adorable(and every other positive adjective) story. Each aspect of this novel was so strong. The grand characters: Madeline, Olly, Carla and her mother. The picturesque world that Yoon described throughout the entire novel, from Madeline's white room to the beautiful islands of Hawaii. And then the little doodles that graced the pages throughout the books entirety. Speaking of those doodles, I saw Nicola Yoon on The Social(a Canadian Talk Show program) and she mentioned that her husband is the artist behind the book cover, the doodles
and
the movie poster, so big kudos to Mr. Yoon!
Everything, Everything
reminded me a lot of one of my favourite film's, Penelope(minus the curse and the pig's nose) but more so for the seclusion and the boy who breaks the spell. In it's own way,
Everything, Everything
is a perfect fairytale. It's not so much that Boy-Saves-Girl but more so Boy-Shows-Girl-Her-Grand-Potential. Boy-awakens-girl. Madeline held the power all along but Olly ignited the flame. LOVE!
Everything, Everything
is so much more than your "average" young adult love story. It is a coming of age novel. A girl shedding her skin and learning about herself and who she wants to become. It is about a mother and her relationship with her daughter. The unbreakable bond between parent and child. And it is also about those other meaningful relationships you have with people in your lives. In Madeline's case, Carla. A vibrant character that helped polish Madeline into the beautiful gem that she is.
If you haven't read this novel yet, then what are you waiting for? Don't be fool like me and put it off any longer. There is truly so much beauty in
Everything, Everything.