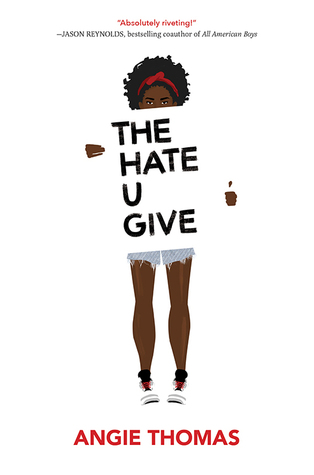 Release Date: February 28th, 2017
Publisher: Harper Collins | HarperTeen
Genre: Young Adult
Pages: 444 Pages
Format: Hardcover
Source: Purchased
Reason: Personal Interst
Find the Author: Website
Buy the Book: Amazon CA | Amazon
Sixteen-year-old Starr Carter moves between two worlds: the poor neighborhood where she lives and the fancy suburban prep school she attends. The uneasy balance between these worlds is shattered when Starr witnesses the fatal shooting of her childhood best friend Khalil at the hands of a police officer. Khalil was unarmed.

Soon afterward, his death is a national headline. Some are calling him a thug, maybe even a drug dealer and a gangbanger. Protesters are taking to the streets in Khalil's name. Some cops and the local drug lord try to intimidate Starr and her family. What everyone wants to know is: what really went down that night? And the only person alive who can answer that is Starr.

But what Starr does or does not say could upend her community. It could also endanger her life.
The Hate U Give
ignited something the moment it hit shelves. It sparked conversation. It got the youth talking. It got adults talking. It got youth
and
adults conversing
together.
The Hate U Give
needs to be on every school's reading syllabus. It needs to be on the shelves of every public library. It needs to be printed in all languages so it can be shared throughout the world.
Angie Thomas created a character that will stand out so strongly among any other character you've ever come across. Starr Carter starts off as your average, fun-loving teenager that lives in 2 different worlds. Everything changes the night she witnesses the murder of her childhood best friend by a cop. Starr's world is then turned upside down and she gets lost in the midst. Questioning the world she lives in the, who she is and where she belongs, we are taken on Starr's journey through grief, anger and growth.
Heartbreaking. So very heartbreaking yet so relevant. Thomas' writing will strip you down to your core and get your own conversations swirling in your head. However, it does not come off preachy or soap-boxey. It comes off so very real. She penned such a diverse cast of characters. Each one standing out on their very own. Each one offering so much to the story being told. In fact, it is a very character driven novel. The character really put this story together.
The Hate U Give
teaches us about fear and how to overcome it. How to dive into the dark abyss of the unknown because you know it is the right thing to do. It teaches you to use the most powerful tool you possess: Your voice.
Angie Thomas used her tool, her voice to it's maximum. She got people
talking
and in my opinion, that has to be the highest compliment as an author. I hope she is very proud of herself because
The Hate U Give
is a game changer in YA literature. Thank you, Angie Thomas!