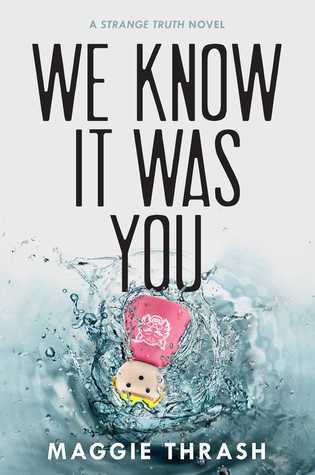 Release Date:
October 4th,
Publisher:
Simon and Schuster
Genre:
Young Adult
Pages:
352 Pages
Series:
Strange Truth #1
Format:
Arc
Source:
From Publisher
Reason:
For Review
Find the Author: Website
Buy the Book:
Amazon CA
|
Amazon
It's better to know the truth. At least sometimes.

Halfway through Friday night's football game, beautiful cheerleader Brittany Montague—dressed as the giant Winship Wildcat mascot—hurls herself off a bridge into Atlanta's surging Chattahoochee River.

Just like that, she's gone.

Eight days later, Benny Flax and Virginia Leeds will be the only ones who know why.
I can assure you that you've probably never read anything quite like
We Know it Was You
and probably never will come across anything like it again. It is unique in every sense of the world. It's warped, it's dark and it funny. And a good dark comedy and totally my jam!
I thoroughly enjoyed every minute while reading this book. It is a deliciously entertaining tale that will keep your spine tingling every nail-biting moment!
The book starts off with a bang, getting right to it and the pace just quickens from there! Firstly, let's talk about Virginia. I loved her. She was just one badass character! Her energy radiated off of the pages and I just couldn't help but fall in love with her!
Benny was a great character as well. Not your usual swoon-worthy male character. He has a love for mysteries and seems to be very straight to the punch! Virgina and Benny played very well off of each other. The balanced each other out and I loved their chemistry together.
We Know it Was You
has received some mixed reviews, but I STRONGLY urge you to give this book a try for yourself. It was so endearing and had me hooked from the very first page! Fans of Twin Peaks o Pretty Little Liars will definitely eat of this tale. All it was missing was a brooding Agent Cooper ;)