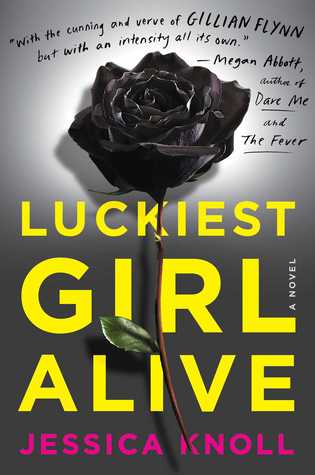 Release Date:
May 12th, 2015
Publisher:
Simon and Schuster
Genre:
Fiction | Mystery & Thriller
Pages:
352 Pages
Series:
N/A
Format:
Arc
Source:
From the Publisher
Reason:
For Review
Find the Author:
Website
Buy the Book:
Amazon CA
|
Amazon
HER PERFECT LIFE

IS A PERFECT LIE.




As a teenager at the prestigious Bradley School, Ani FaNelli endured a shocking, public humiliation that left her desperate to reinvent herself. Now, with a glamorous job, expensive wardrobe, and handsome blue blood fiancé, she's this close to living the perfect life she's worked so hard to achieve.




But Ani has a secret.




There's something else buried in her past that still haunts her, something private and painful that threatens to bubble to the surface and destroy everything.
"Moving on doesn't mean you don't talk about it. Or hurt about it. It's always going to hurt,"
I am taking the risk of having books thrown at my by posting this review. Why? Because this was one of the most read, most talked about book of 2015. It has also been dubbed 'The
best
book' of 2015. However, I could barely get through it.
Luckiest Girl Alive
seemed like the only novel I was hearing about. I did like
Gone Girl,
so when it was being advertised to fans as the next Gone Girl, my interest was immediately piqued. I was craving another thrilling, dark page-turner.
I eagerly started
Luckiest Girl Alive
but sadly, that eagerness fizzled
.
It took everything in me to just 50 pages through. Here are a few reasons why I was not the biggest fan of this novel.
1.
The Writing Style:
This book was praised for it's writing style so I definitely feel like I am missing something! I felt there were scenes that just went on and on. There were conversations between characters that just felt like rambling.
2.
The Delivery:
The back and forth from past to present was starting to get confusing. I had to keep retracing to figure out where I was in the story.
However, despite these reasons, I did finish the book. It never got to the point where I just felt like I needed to give up. The book had a few redeeming qualities that kept me returning. Perhaps by expectations were set a little too high. I am all about second chances so I will happily give Jessica Knoll another try when/if she releases another novel.
But hey, just because I wasn't the biggest fan does not mean you won't enjoy it. Different strokes for different folks, right?!
Have you read
The Luckiest Girl Alive?
Please comment below and let me know how you liked it!