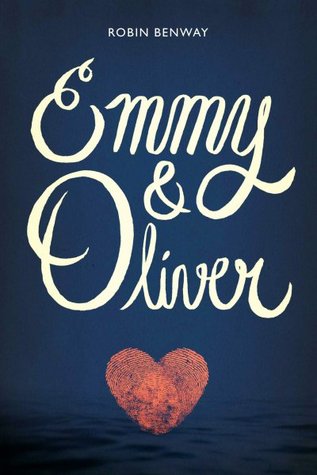 Release Date:
June 23rd, 2015
Publisher:
Harper Collins | Harper Teen
Genre:
Young Adult
Pages:
352 Pages
Series:
None
Format:
Hardcover
Source:
Purchased
Reason:
Personal Interest
Find the Author:
Website
|
Twitter
Buy the Book:
Amazon CA
|
Amazon
Emmy's best friend, Oliver, reappears after being kidnapped by his father ten years ago. Emmy hopes to pick up their relationship right where it left off. Are they destined to be together? Or has fate irreparably driven them apart?
Emmy just wants to be in charge of her own life.
She wants to stay out late, surf her favorite beach—go anywhere without her parents' relentless worrying. But Emmy's parents can't seem to let her grow up—not since the day Oliver disappeared.
Oliver needs a moment to figure out his heart.
He'd thought, all these years, that his dad was the good guy. He never knew that it was his father who kidnapped him and kept him on the run. Discovering it, and finding himself returned to his old hometown, all at once, has his heart racing and his thoughts swirling.
Emmy and Oliver were going to be best friends forever, or maybe even more, before their futures were ripped apart. In Emmy's soul, despite the space and time between them, their connection has never been severed. But is their story still written in the stars? Or are their hearts like the pieces of two different puzzles—impossible to fit together?
"The more you start to love someone, the more you ache when they're gone, and maybe it's that middle ground that hurts the most, when you can see them and still not feel like you're near enough."
I DID IT! I
FINALLY
DID IT! I have been hearing SO many amazing things about
Emmy & Oliver
that I needed to see what all the hype was about. And the hype was deserved...Very much deserved!
I wasn't quite sure what to expect when finally cracking open
Emmy & Oliver.
I was a little nervous and hesitant because I have been known to fall for the hype before and have the book not win me over. However, that was not the case with this gem.
Let's start off with Emmy. Simply put, she is amazing. Emmy is hilarious, sarcastic, sweet, bold and everything in between. Her wittiness and harmless sarcasm kept me laughing out loud throughout the entire book. Then there is Drew and Caro(a.k.a. Caroline, but don't ever call her that!). They are 2 of the most epic best friends in literature history! Seriously, this character trio will have you falling in love with them instantly. Aside from their humour and amazing one-liners, they are beautiful, supportive...They are all of the above!
And then, let us
swoon
talk about Oliver. Yes, he is absolutely swoon-worthy and has a sense of humour that is a perfect match for Emmy, but that barely skims the surface with Oliver. He is tender, broken, incredibly sweet. afraid and vulnerable. The pain that he is enduring is raw and radiates off the pages. There were moments where I was absolutely aching for him.
When first falling upon
Emmy & Oliver
you don't really know what your getting into. The cover is simple along with the title but they say that the best things come in small packages and that is certainly the case with this novel! It's funny, witty and heart-breakingly beautiful. You will laugh, you will cry and you will laugh while crying. I devoured this book but savoured every moment. It truly is a wonderful read and definitely falls on my top 5 all time favourites!
Next chance you get, grab a copy of
Emmy & Oliver,
cozy up under a blanket, or under the sun with a cup of whatever you like and get reading!