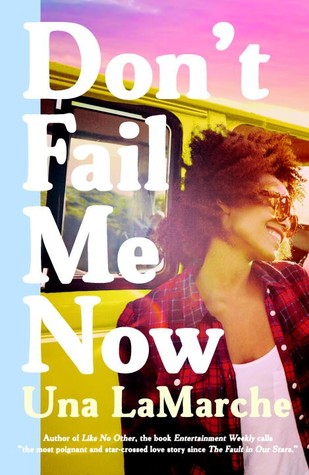 Release Date:
September 1st, 2015
Publisher:
Razorbill
Genre:
Young Adut
Pages:
288 Pages
Series:
N/A
Format:
ARC
Source:
From the Publisher
Reason:
For Review
Find the Author:
Website
|
Twitter
Buy the Book:
Amazon CA
|
Amazon
Michelle

and her little siblings Cass and Denny are African-American and living on the poverty line in urban Baltimore, struggling to keep it together with their mom in jail and only Michelle's part-time job at the Taco Bell to sustain them.

Leah

and her stepbrother Tim are white and middle class from suburban Maryland, with few worries beyond winning lacrosse games and getting college applications in on time.

Michelle and Leah only have

one thing in common

: Buck Devereaux, the biological father who abandoned them when they were little.

After news trickles back to them that Buck is dying, they make the uneasy decision to drive across country to his hospice in California. Leah hopes for closure; Michelle just wants to give him a piece of her mind.

Five people in a failing, old station wagon, living off free samples at food courts across America, and the most pressing question on Michelle's mind is: Who will break down first--herself or the car? All the signs tell her they won't make it. But Michelle has heard that her whole life, and it's never stopped her before....
I love a good book. I love a good book that has great characters. I love a good book that has great characters and a touching story...Don't Fail Me Now gave me all of my loves!
I'll start off by saying that Don't Fail Me Now turned out nothing how I expected it would. It went down a road(no pun intended) that I was not expecting, but that is what I ended up loving about it! For some reason, I had thought this book was going to be a light and funny read but it didn't turn out that way at all. Yes, it has it's funny parts and great one-liners but the book dives much deeper. It tackles some pretty difficult issues ranging from drugs, homelessness and broken homes. It gets pretty heavy at times and will have your heart aching for Michelle, Cass and Denny. It will also have your heart aching for the people in the world that really deal with this in real life.
I completely devoured Don't Fail me Now. It moved at a wonderful pace and each character had their own voice, even Denny. Not one character over-crowded the other. I have to admit that the book started a off a bit slow for me, but redeemed itself very quickly. About 50 pages in, I was officially hooked!
Heart-wrenching at times, delicate and romantic in others Don't Fail Me Now turned out to be a very pleasant surprise! The author delivered each issue with poise. I think anyone dealing with any of what Una LaMarch touches on in this book would find comfort in relating to the characters. Each character had a beautiful grace about them and proved they were not their problems.
Don't Fail Me Now is the perfect book to wrap up your Summer Reading and end it with a bang!