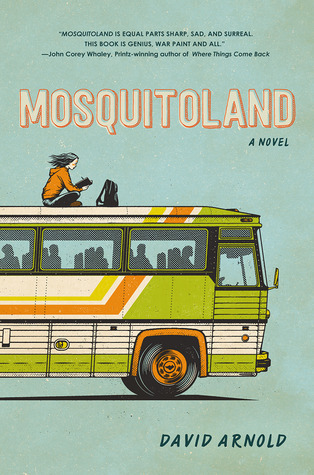 Release Date:
March 3rd, 2015
Publisher:
Viking: Penguin Imprint
Genre:
Young Adult
Pages:
352 Pages
Series:
N/A
Format:
Arc
Source:
From the Publisher
Reason:
For Review
Find the Author:
Website
|
Twitter
Buy the Book:
Amazon CA
|
Amazon
"I am a collection of oddities, a circus of neurons and electrons: my heart is the ringmaster, my soul is the trapeze artist, and the world is my audience. It sounds strange because it is, and it is, because I am strange."
After the sudden collapse of her family, Mim Malone is dragged from her home in northern Ohio to the "wastelands" of Mississippi, where she lives in a medicated milieu with her dad and new stepmom. Before the dust has a chance to settle, she learns her mother is sick back in Cleveland.
So she ditches her new life and hops aboard a northbound Greyhound bus to her real home and her real mother, meeting a quirky cast of fellow travelers along the way. But when her thousand-mile journey takes a few turns she could never see coming, Mim must confront her own demons, redefining her notions of love, loyalty, and what it means to be sane.


Told in an unforgettable, kaleidoscopic voice, "Mosquitoland" is a modern American odyssey, as hilarious as it is heartbreaking.
"Life can be a real son of a bitch sometimes, bringing things back around long after you've said good-bye."
Wow! To say I am suffering major book hangover after reading this one would be an understatement! 2015 has kicked off with a bang in the world of books; and
Mosquitoland
may take the cake!
Over the last few months I was seeing this book pop up on all kinds of blogs and memes. One of
the
most anticipated books of 2015, and after reading it, I can totally understand why! I am not usually one that falls for the hype or that ends up liking it as much as everyone else does. As I've already mentioned though, that was clearly not the case for this book. I loved every second...Every page...Every word! I am totally fan-girl'ing over this book right now.
My arc is tattered and worn. This book literally followed me everywhere! To the gym, the mall, the kitchen, friends houses...When it came to
Mosquitoland
the phrase: "I'd rather be reading." definitely marks true!
Alright, alright! You're probably thinking: "Just get to it already!". What about
Mosquitoland
did I love so much? Well, everything. Ha! How do ya like that?! Go on and read it. You'll see exactly what I mean.
First, you'll meet Mim(Mary Iris Malone). A character that has so many amazing, sarcastic qualities that I couldn't help but love her...And see a little of myself in her. There are also qualities about her that will have you wanting to embrace her. Shelter her from the cruelties of the world.
Then you'll meet Arlene, Carl, Poncho man *shutters*, Ahab, Walt, 17C a.k.a Beck...And the rest is history! This amazing crew of characters(aside from Poncho man) will nest their way into your heart. You will want to prolong your reading experience just so you can spend as much time with this eclectic bunch o' folk.
Mosquitoland
also tackles Mental Illness. Something that I am grateful for. Mental Illness is slowly getting the attention it needs, and I think the more it comes up in Early Chapter Books and Young Adult books, the more people will learn that they are not alone, that they can relate and that they there is help out there.
I've mentioned it before and I'll say it again: I LOVE novels that take me on a journey(pun intended) of self discovery. I love seeing not only the character go through their transition, but to also discover who they truly are in the process. As Mim mentions: Sometimes a thing is not a thing until you say it out loud.
In case I did not make myself clear, this is a novel that you
need
to read. Allow yourself to fall victim to the hype when it comes to
Mosquitoland
. David Arnold has definitely put himself on my radar! If there is ever a standing ovation warranted for a book, this would be the one!