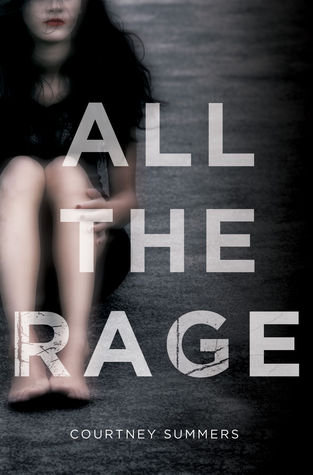 Release Date:
April 14th, 2015
Publisher:
St. Martin's Griffin
Genre:
Young Adult
Pages:
320 Pages
Series:
None
Format:
Arc
Source:
From the Publisher
Reason:
For Review
Find the Author:
Website
Buy the Book:
Amazon CA
|
Amazon
The sheriff's son, Kellan Turner, is not the golden boy everyone thinks he is, and Romy Grey knows that for a fact. Because no one wants to believe a girl from the wrong side of town, the truth about him has cost her everything—friends, family, and her community. Branded a liar and bullied relentlessly by a group of kids she used to hang out with, Romy's only refuge is the diner where she works outside of town. No one knows her name or her past there; she can finally be anonymous. But when a girl with ties to both Romy and Kellan goes missing after a party, and news of him assaulting another girl in a town close by gets out, Romy must decide whether she wants to fight or carry the burden of knowing more girls could get hurt if she doesn't speak up. Nobody believed her the first time—and they certainly won't now — but the cost of her silence might be more than she can bear. 


With a shocking conclusion and writing that will absolutely knock you out, All the Rage examines the shame and silence inflicted upon young women after an act of sexual violence, forcing us to ask ourselves: In a culture that refuses to protect its young girls, how can they survive?
"I don't believe in forgiveness. I think if you hurt someone, it becomes part of you both. Each of you just has to live with it and the person you hurt gets to decide if they want to give you the chance to do it again. If they do and you're a good person, you won't make the same mistakes. Just whole new ones."
--
Romy Grey
If you're a frequent reader of The Crazy Bookworm then you probably already know that I love 'deep' books. Those books that are raw and powerful. Books that make you cry and cringe at the same time. I love all types of books, but I tend to gravitate to the heavier reads more.
Where do I begin with
All the Rage
? I fell in love with Summers' writing ever since
Fall for Anything
. That book will always stay with me but it now has company. I completed
All the Rage
in bed, not being able to put it down until I finished the last page, then I was up for at least an 1 hour reeling over it. It's raw and is a powerhouse. This book will definitely leave with a little piece of your heart.
Romy is a delicate character. On the outside she seems strong with this hit-me-with-your-best-shot attitude, yet deep down she is broken and scarred. She wears her trademark red nail polish and lipstick as an armour and is meticulous with it's application. This is actually a strong character trait of hers and shows up throughout the novel. My heart absolutely swelled for her while reading this novel.
This novel packs A LOT of punch when it comes to storyline, yet I still found it to be a very character driven novel. After all, it's the characters that give the storyline it's depth, right? And if the characters fall flat, then the whole book is out a balance. Each character in
All the Rage
added so much to this book...Each one was necessary! They took this heartbreaking storyline and made it even more
real.
The writing is nothing short of amazing. Courtney Summers has this lyrical writing style that transports you from wherever you are reading and drops you down gently to whatever world the character is living in. It also flows so beautifully and effortlessly. Her writing style is one of my absolute favourite reading experiences!
Even though I devoured this book in nearly one sitting, it will stay with me forever. It took me on an emotional roller coaster with it's raw storyline and beautiful writing style.
Thank you for another powerful read, Courtney Summers. You never disappoint!