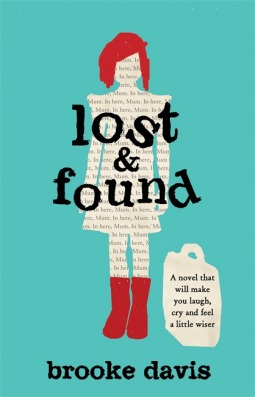 Release Date:
February 3rd. 2015
Publisher:
Penguin Canada
Genre:
Young Adult
Pages:
272 Pages
Series:
None
Format:
Hardcover
Source:
From the Publisher
Reason:
For Review
Find the Author:
Facebook
|
Twitter
Buy the Book:
Amazon CA
|
Amazon
Millie Bird is a seven-year-old girl who always wears red wellington boots to match her red, curly hair. But one day, Millie's mum leaves her alone beneath the Ginormous Women's underwear rack in a department store, and doesn't come back.

Agatha Pantha is an eighty-two-year-old woman who hasn't left her home since her husband died. Instead, she fills the silence by yelling at passers-by, watching loud static on TV, and maintaining a strict daily schedule. Until the day Agatha spies a little girl across the street.

Karl the Touch Typist is eighty-seven years old and once typed love letters with his fingers on to his wife's skin. He sits in a nursing home, knowing that somehow he must find a way for life to begin again. In a moment of clarity and joy, he escapes.

Together, Millie, Agatha and Karl set out to find Millie's mum. Along the way, they will discover that the young can be wise, that old age is not the same as death, and that breaking the rules once in a while might just be the key to a happy life.
Every so often, you come across a book that leaves you speechless. A book that is so rare, it is like a precious gem. It's characters, it's voice and it's story building all aligning perfectly to form a wonderful reading experience; And a touch of sadness when reading the last page.
Be prepared to meet some of the most quirky, lovely and eclectic characters to grace a novel together. I challenge you to find a character as wonderful as Millie. When describing her, I want to use words like: Extraordinary, untypical, eccentric. You'll fall in love with her immediately...Along with Agatha and Karl. It's rare that I come across such a fascinating bunch of characters. They are the heart of this novel.
I find it so hard to believe that this is Brooke Davis' debut novel. Her crafting of characters and her story delivery read as if she is a seasoned author!
This book will make you ponder, laugh and cry. It is, in every sense of the phrase: The total package!
Please don't be put off by my vague review as I did this on purpose. I want every word of this novel to truly be experienced by the reader first hand. No preconceived notions here! Go out and get this book...Now!