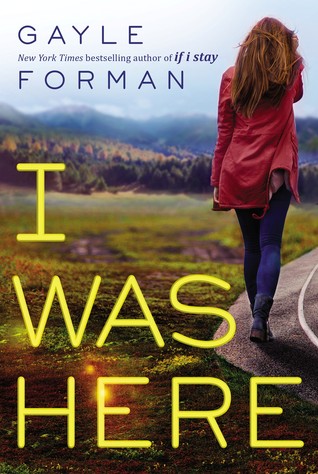 Release Date:
January 27th, 2015
Publisher:
Penguin Random House
Genre:
Young Adult
Pages:
288
Series:
None
Format:
Hardcover
Source:
Bought
Reason:
Personal interest
Find the Author:
Website
Buy the Book:
Amazon
Cody and Meg were inseparable.Two peas in a pod.Until . . . they weren't anymore.


When her best friend Meg drinks a bottle of industrial-strength cleaner alone in a motel room, Cody is understandably shocked and devastated. She and Meg shared everything—so how was there no warning? But when Cody travels to Meg's college town to pack up the belongings left behind, she discovers that there's a lot that Meg never told her. About her old roommates, the sort of people Cody never would have met in her dead-end small town in Washington. About Ben McAllister, the boy with a guitar and a sneer, who broke Meg's heart. And about an encrypted computer file that Cody can't open—until she does, and suddenly everything Cody thought she knew about her best friend's death gets thrown into question.
"I'll go where you go." A simple statement that feels like a blanket."
Ah, Gayle Forman...You sure know how to make a girl cry! I easily could have read this book in one sitting if I wasn't trying to purposely drag it out. Have you ever done that? Willingly drag out a book because you don't want it to end? Almost like you are savouring it? That's exactly what I was doing with
I Was Here by Gayle Forman
. The wonderful author who brought us the epic
If I Stay
and
Just One Day
books.
Gayle Forman
is known for penning emotionally charged novels. Each one had me reaching for the Kleenex constantly.
Gayle Forman
is also known for crafting outstanding characters. Characters that nestle their way into your hearts forever; Cody, Meg, Ben, The Garcia's and every other character in this book are no exception. You not only become emotionally tied to the main characters but with the entire character cast!
Cody's character is not one that is put out on the table for all to see right off the bat. We learn of her deep friendship with Meg, but not too much about her. Her character and her emotions over her Best Friend's death unravel throughout the novel. Almost as if we are experiencing the stages of her grief right along her side. It made for a very raw yet realistic read.
Gayle Forman
is also a master when it comes to Male characters. They all seem to have an almost boyish exterior but a much deeper, more vulnerable interior. Ben, of course, falls under this category. And not to mention, he is totally swoon worthy! I adored his character from his first introduction.
And Meg, dear Meg. Although we only learn of her character in past-tense she has a strong presence. Almost as if she was looming over your shoulder, hauntingly, as her story unfolded.
I Was Here
was nothing short of amazing! You will want to devour it and savour it all at the same time. You will want to fly through the pages yet hold off from turning them. Another spectacular novel from
Gayle Forman
in the books...Like what I did there?