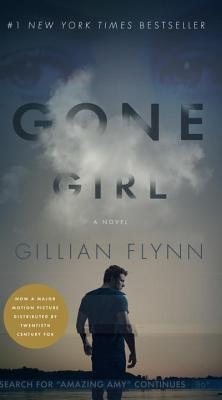 Release Date:
August 26th, 2014
Publisher:
Broadway Books
Genre:
Fiction | Mystery & Thriller
Pages:
422 Pages
Series:
None
Format:
Paperback
Source:
Think Jam
Reason:
For Review
Find the Author:
Website
Buy the Book:
Amazon CA
|
Amazon
On a warm summer morning in North Carthage, Missouri, it is Nick and Amy Dunne's fifth wedding anniversary. Presents are being wrapped and reservations are being made when Nick's clever and beautiful wife disappears. Husband-of-the-Year Nick isn't doing himself any favors with cringe-worthy daydreams about the slope and shape of his wife's head, but passages from Amy's diary reveal the alpha-girl perfectionist could have put anyone dangerously on edge
.
Under mounting pressure from the police and the media—as well as Amy's fiercely doting parents—the town golden boy parades an endless series of lies, deceits, and inappropriate behavior. Nick is oddly evasive, and he's definitely bitter—but is he really a killer?
"There's something disturbing about recalling a warm memory and feeling utterly cold."
I am a little late to the Gone Girl fame. When I used to work at my little bookstore, we couldn't keep this book in; It was flying off the shelves. Here I am, the "Young Adult" reader who doesn't really step out of her book comfort zone too often...However, Gone Girl completely changed that for me! While being absolutely engrossed by the novel, barely putting it down for anything, the book was saying to me: "See Cathy, this is why you need to step out of your zone a bit. To discover books like me."
Like I said, I couldn't put this book down. It followed me to the gym, on errands, in the Kitchen...You get the point. Anytime I could squeeze in some reading time, I took full advantage. Firstly, I was totally Team Nick! To keep this spoiler free, I won't go into details about some of his character flaws and wrong-doings, but despite of those things, I just loved him! Amy was a fantastic character as well! Gillian Flynn really set the bar when it came to the development of these characters. Sheesh! I don't think I've even become so engrossed by 2 characters in my entire reading life. It is no shocker that this book won 'Best Book' awards and was featured on pretty much every talk show.
Buckle up, because this book will take you on an epic roller-coaster right until the. Very. Last. Page. Throughout the book you will feel like a detective; Trying to tie together the clues faster and to solve the riddle. Good luck! I was on the right track for most of the book, however, was quickly shut down but the jaw-dropping revelations.
Gone Girl is mind-blowing, jaw-dropping, dark and provocative. It packs so much punch, you won't know what to do with it all! A wild reading experience that you shouldn't miss!
_________________________________________________________________________________
Release Date:
January 13, 2015
Running Time:
148 Minutes
Aspect Ratio:
2.40:1
Format:
Blu-Ray | Wide Screen
Studio:
20th Century Fox
Cast:
Ben Affleck, Roseamund Pike, Tyler Perry
I jumped at the opportunity to review this Blu-Ray because the book was such a huge success for me. And when I heard Gillian Flynn was doing the Screenplay, I had full faith in the movie!
The film did a fantastic job at painting the "picture perfect" couple between Amy and Nick. The casting, in my opinion, was bang on, right down to the detectives. How often is it that a cast can almost match the cast you created in your head?! David Fincher, who is pretty legendary. Well known for: Fight Club, The Social Network, The Girl with the Dragon Tattoo, was the Director of this film, and that was an epic win. In my opinion, the book had many 'Finch' characteristics: The ominous tone, the eerie musical scores, the pacing of the film. He delivered this movie in a way, just like the book, that kept you hanging on a thread until the screen goes black and the credits roll.
Go was a favourite character of mine, both in the book and the film. I found the chemistry between Carrie Coon(Go) and Ben Affleck very strong. They are twins and very much alike in personality's. I don't think they could have put together a better pair. There was a specific moment between the two towards the end that made me tear up unexpectedly, where Go states she has always been 'with' him. Even before birth. A very touching moment.
I loved that the Blu-Ray came with an Amazing Amy book! Talk about a nice touch! I can't wait to read it to my niece and see what she thinks about this Amy character.
Overall,
Gone Girl
, both book and film was one wild adventure. Get the book, read it, then watch the movie!
Have you read or seen the movie? What did you think? Comment below!