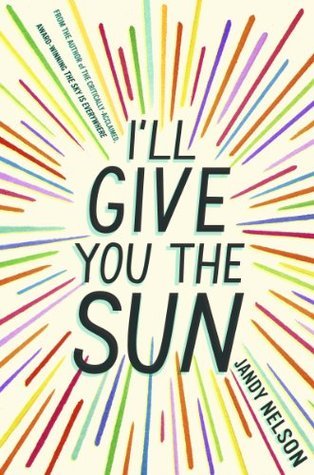 Release Date:
September 16th, 2014
Publisher:
Penguin Canada | Dial
Genre:
Young Adult
Pages:
371 Pages
Series:
None
Format:
Hardcover
Source:
From Publisher
Reason:
For REview
Find the Author:
Website
Buy the Book:
Amazon CA
J

ude and her twin brother, Noah, are incredibly close. At thirteen, isolated Noah draws constantly and is falling in love with the charismatic boy next door, while daredevil Jude cliff-dives and wears red-red lipstick and does the talking for both of them. But three years later, Jude and Noah are barely speaking. Something has happened to wreck the twins in different and dramatic ways . . . until Jude meets a cocky, broken, beautiful boy, as well as someone else—an even more unpredictable new force in her life. The early years are Noah's story to tell. The later years are Jude's. What the twins don't realize is that they each have only half the story, and if they could just find their way back to one another, they'd have a chance to remake their world.
This novel will give you an intense case of "The Feels". Please take precautions by having all the Kleenex you own at the ready!
"Maybe some people are just meant to be in the same story."
-
Jude Sweetwine
Good lawdy! What just happened to me? I have been away from all civilization because I refused to put this book down until it was finished. I could not peel my away away. Trust me, I tried!
My fiance, god bless him, remained very patient during the hours while ready this book while meals suffered and plans got put on hold because I needed to read just one more chapter(Ha! Yeah right!)
Okay, enough gushing and let's get down to the nitty gritty on why you need to get in your car, bus, taxi or walk to the nearest bookstore and buy this book IMMEDIATELY!
I own The Sky is Everywhere but have not yet read it. I have heard countless wonderful things about Jandy Nelson. Believe me, I am cursing myself at this very moment for not reading her sooner. BUT, better late than never, right?
I'll Give You the Sun is a beautiful story told by 2 different point of views and 2 different timelines. We are introduced to twins, Noah and Jude. Noah's part of the story takes place during the time when they are 13 and Jude's point of view takes place when they are 16. A HUGE part of this contains a big event that the story weaves around, so I am totally avoiding that to remain Spoiler Free...And because you just have to experience it yourself!
I love a good story that has elements ofpersonal growth and self discovery and this book contained those tenfold. Noah is a delicate, lovely character. Almost fragile. He loves and loves hard. And wants nothing more than to be an artist. No need for pictures in this novel. The language and lyrical flow is Nelson's writing style made Noah's art come to life in my very mind. So colourful, so beautiful.
Jude is a strong character. The only person that could get all the in with her was Noah. She had so many beautiful elements about her, and aside from the artistic trait, I felt a lot of myself in her. I love when a book reaches me on a personal level!
You will laugh, you will cry, you will swoon and you will be left breathless. This book will leave you reeling. Don't say I didn't warn ya!
An absolute gem. A spectacular reading experience...adventure!
In One Word
Cover Love