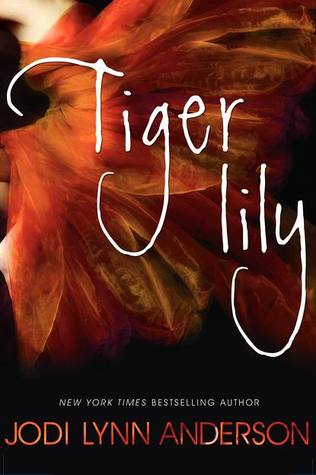 Release Date:
July 3rd, 2012
Publisher:
HarperCollins
Genre:
Young Adult
Pages:
292
Series:
None
Format:
Hardcover
Source:
Personal Library
Reason:
Personal interest | Summer Reading Challenge
Buy the Book:
Amazon CA
|
Amazon
Fifteen-year-old Tiger Lily doesn't believe in love stories or happy endings. Then she meets the alluring teenage Peter Pan in the forbidden woods of Neverland and immediately falls under his spell.




Peter is unlike anyone she's ever known. Impetuous and brave, he both scares and enthralls her. As the leader of the Lost Boys, the most fearsome of Neverland's inhabitants, Peter is an unthinkable match for Tiger Lily. Soon, she is risking everything—her family, her future—to be with him. When she is faced with marriage to a terrible man in her own tribe, she must choose between the life she's always known and running away to an uncertain future with Peter.




With enemies threatening to tear them apart, the lovers seem doomed. But it's the arrival of Wendy Darling, an English girl who's everything Tiger Lily is not, that leads Tiger Lily to discover that the most dangerous enemies can live inside even the most loyal and loving heart.
"For the Girls with messy hair and thirsty hearts"-Book Dedication
"Note: This review will contain gushing, gifs and lots of Caps locks. Read at your own risk!"
This summer has been an amazing one for me when it comes to books. I decided to create my own summer challenge that consists of me reading all of those books that I've been dying to read but haven't. No review books allowed. This are strictly books of personal interest. Phew, now that I've gotten that out of the way, let's gush about this AWESOME book!
2 weeks have gone by since I read the last page of this marvelous book and I am already fighting the urge to re-read it. Peter Pan has always been one of my favourite stories. As I child, I was always fascinated with Neverland, the Lost Boys, Peter and everything else!
I was a bit apprehensive going into this novel because I have read Peter Pan retellings in the past, and they never really won be over. However Tiger Lily delivered. It delivered BIG TIME!
I've never considered Peter Pan "swoon-worthy". I always considered him as a boy. Not the case with this Peter though. I was majorly swooning! I guess I should just get in line right? Mermaids, Tinkerbell, Tiger Lily, Wendy...Tough competition!
There is so much to discuss; Where to begin? Tiger Lily was an enchanting character. I loved that we got to learn so much of her story, and that it was delivered beautifully throughout the whole novel. Another great aspect was that the book was narrated by Tinkerbell. With that being said, she doesn't have as strong of a presence as Tinkerbell in all of the other adaptations. She is more of the story teller.
Peter's character was both adventurous and heart breaking. It was quite sad. I loved Anderson's version of Peter Pan. He was real. There were moments that really broke my heart and there were moments that we see the wonderful Peter we all fell in love with!
I could go on forever, really! There is so much to talk about that this would be the never ending review...Like what I did there?
Pick up Tiger Lily. Don't wait! Introduce yourself to these lovely characters. Let this story whisk you away. Be warned: You will cry. This is a beautiful story but it is a sad story, too! With that being said: