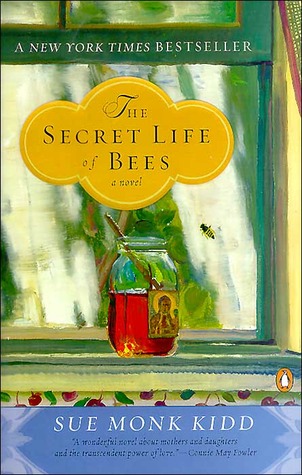 Release Date:
January 28th, 2003
Publisher:
Penguin Books
Genre:
Fiction
Pages:
318
Series:
Stand alone
Format:
Paperback(10th Anniversary Edition)
Source:
Purchased
Reason:
Personal interest | Summer Reading Challenge
Find the Author:
Website
Buy the Book:
Amazon CA
|
Amazon
Set in South Carolina in 1964,

The Secret Life of Bees

tells the story of Lily Owens, whose life has been shaped around the blurred memory of the afternoon her mother was killed. When Lily's fierce-hearted black "stand-in mother," Rosaleen, insults three of the deepest racists in town, Lily decides to spring them both free. They escape to Tiburon, South Carolina--a town that holds the secret to her mother's past. Taken in by an eccentric trio of black beekeeping sisters, Lily is introduced to their mesmerizing world of bees and honey, and the Black Madonna. This is a remarkable novel about divine female power, a story women will share and pass on to their daughters for years to come.
"People can start out one way, and by the time life gets through with them they end up completely different."
I finished this book a few weeks ago and yet the power of it is still with me!
This book is filled with so many life lessons; So many simple statements that will get you through the toughest of times.
Sue Monk Kidd's writing flows so beautifully. The words and characters leap off the pages and come to life right before your eyes.
Why did I wait so long to read this masterpiece? Although I heard wonderful things about this book, it just didn't sound like something I should jump up and read right away. I was kind of "meh" about it. Shame on me! The Secret Life of Bees is a beautiful coming of age tale, taken place during one of the most hardest times for African Americans. There were parts of this book that aroused some anger, due to the ignorance and cruelty of the white society. But compassion, love and happiness were the emotions I felt most while reading this book(and dabbing away a tear or two). It is so heart-warming and charming!
August is a character that will remember forever. She was not a fictional character to me, she was a loving, enchanting person. She comforted me and taught me many things about life and well, about Bees, too!!
This is a novel that needs to be read! It needs to be taught in schools. The message behind this novel is so powerful and lovely. This was a one of a kind reading experience!