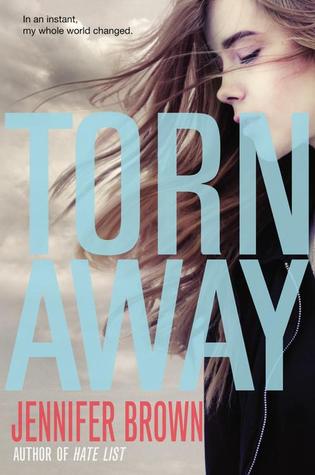 Release Date:
May 6th, 2014
Publisher:
Hachette Canada
Genre:
Young Adult
Pages:
288 Pages
Series:
None
Format:
Paperback ARC
Source:
From the Publisher
Reason:
For Review
Find the Author:
Website
Buy the Book:
Amazon CA
|
Amazon
Born and raised in the Midwest, Jersey Cameron knows all about tornadoes. Or so she thinks. When her town is devastated by a twister, Jersey survives -- but loses her mother, her young sister, and her home. As she struggles to overcome her grief, she's sent to live with her only surviving relatives: first her biological father, then her estranged grandparents.




In an unfamiliar place, Jersey faces a reality she's never considered before -- one in which her mother wasn't perfect, and neither were her grandparents, but they all loved her just the same. Together, they create a new definition of family. And that's something no tornado can touch.
"What the news crews couldn't show was the real damage Elizabeth's monster tornado had left behind. How do you record the wreckage left in someone's heart."--
Jersey
Jennifer Brown is one of my favourite Young Adult Authors! She takes real life situations and pens them with realistic characters. What I love most about Brown is she takes situations that are normally sugar-coated and delivers that with raw intensity; Like Sexting, bullying, teenage domestic violence, the aftermath of a tornado. To me, she belongs along side the literary icons. To me she
is
a Literary icon!
Torn Away
was an absolute heart-wrencher. There were moments that I could just barely keep reading. Knowing that families deal with Natural Disasters just like tornado's and lose everything in it's wake. At times, I couldn't even fathom the pain that Jersey was experiencing. The emptiness and void she had in her heart was obvious throughout the entire novel!
This novel also surfaced a lot of anger out of me. I just wanted to slap her Biological father silly. What a horrible man. Anytime he entered the scene my blood pressure immediately went up! And those Twins! My god, what little brats. Okay, Okay that's it for my venting. But seriously when you read this(because you'd be insane
not
to read it) be prepared for that peachy group of people!
I absolutely loved Jersey, her character reminded me a lot of a friend I had, so reading through her pain made things a little bit harder. There were moments I just wanted to give her a big hug! On that note, there were also moments that she irritated me a little bit. Like her attitude towards her grandparents. I found it to be a a bit harsh and over-dramatic at times but thankfully, she redeemed herself.
Torn Away
was everything I expected and more from Jennifer Brown. There is not one single book of hers that I don't love. I love revisiting her previous work while I eagerly await her newest releases!
In One Word
Cover Love