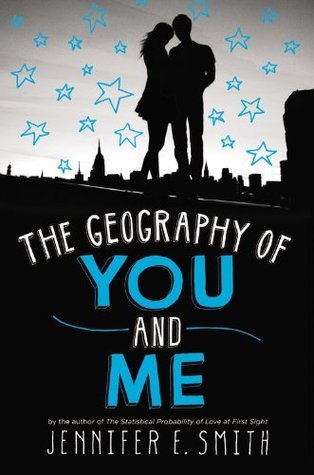 Release Date:
April 15th, 2014
Publisher:
Poppy | Little Brown
Genre:
Young Adult
Format:
Paperback ARC
Series:
None
Source:
From Publisher
Reason:
For Review
Find the Author:
Website
Buy the Book:
Amazon CA
|
Amazon
Lucy and Owen meet somewhere between the tenth and eleventh floors of a New York City apartment building, on an elevator rendered useless by a citywide blackout. After they're rescued, they spend a single night together, wandering the darkened streets and marveling at the rare appearance of stars above Manhattan. But once the power is restored, so is reality. Lucy soon moves to Edinburgh with her parents, while Owen heads out west with his father.




Lucy and Owen's relationship plays out across the globe as they stay in touch through postcards, occasional e-mails, and -- finally -- a reunion in the city where they first met.




A carefully charted map of a long-distance relationship, Jennifer E. Smith's new novel shows that the center of the world isn't necessarily a place. It can be a person, too.
"But there's no such thing as a completely fresh start. Everything new arrives on the heels of something old, and every beginning comes at the cost of an ending."
I LOVED This is What Happy Looks Like so when I learned about The Geography of You and Me I couldn't wait to get my hands on it!
The timing for me reading this book couldn't have been more perfect! First wave of nice, warm weather of the Season, and this was the first book I lounged in the sun with. The sun was not the only thing filling me with warmth. Jennifer E. Smith's novel left me warm and fuzzy. I closed the book feeling as if I just left the theatre from a wicked romantic comedy, only this one took place in my head! Her simple writing style created a very easy reading experience. The words flowed effortlessly and her character development made it very easy to not only connect with the characters, but
feel
for the characters.
Another aspect I loved about this novel is the story of Lucy and Owen as an item is not the main subject of the story. Yes, of course it is a big part of it, but the unfolding of their
own
lives, their own turmoils and triumphs really made me me appreciate the novel even more. A love story is more than just the couple being together!
This is a novel that brings a whole new meaning to "Home is where the heart is"!
In One Word
Cover Love