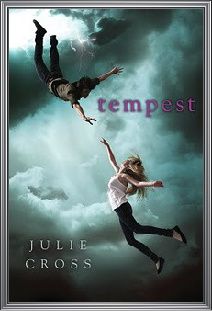 Young Adult:
334 Pages
Publisher:
St. Martin's Griffin
Published:
January 17th, 2012
Series:
Tempest #1
Challenge:
None
Source:
From publisher for review
Buy the Book:
Amazon
Find the Author:
Website
|
Twitter
First impression:
Alluring Cover
The year is 2009. Nineteen-year-old Jackson Meyer is a normal guy… he's in college, has a girlfriend… and he can travel back through time. But it's not like the movies – nothing changes in the present after his jumps, there's no space-time continuum issues or broken flux capacitors – it's just harmless fun.

That is… until the day strangers burst in on Jackson and his girlfriend, Holly, and during a struggle with Jackson, Holly is fatally shot. In his panic, Jackson jumps back two years to 2007, but this is not like his previous time jumps. Now he's stuck in 2007 and can't get back to the future.

Desperate to somehow return to 2009 to save Holly but unable to return to his rightful year, Jackson settles into 2007 and learns what he can about his abilities.

But it's not long before the people who shot Holly in 2009 come looking for Jackson in the past, and these "Enemies of Time" will stop at nothing to recruit this powerful young time-traveler. Recruit… or kill him.
Piecing together the clues about his father, the Enemies of Time, and himself, Jackson must decide how far he's willing to go to save Holly… and possibly the entire world.
Time Travel...I love it. Romance, I love it even more. Throw it in the young adult genre and I'm sold. When I first read the premise for
Tempest
I said "Yes, Please!" It sounded like it was right up my alley, then I laid my eyes on the gorgeous cover, and that was it. I wanted it! I anxiously awaited it's arrival, constantly peeking inside my mailbox wondering "Is it here yet?"
When it finally did arrive, I admired it's cover in person. I flipped through the pages, re-read the premise and then I devoured it. I simply couldn't wait. I put life on hold, and joined Jackson on his time traveling episodes.
The Outcome
: Loved it. Was it exactly what I expected...not really, but that's not a bad thing. It started off a little slow for me at first, and I had a hard time building a connection with Holly in the beginning, but that changed later on. I did love how the author developed the story. Being a big fan of time travel novels, there are times that if not done a certain way, following the time line can get very confusing, but with
Tempest
that did not happen. Julie Cross delivered the time travel element delicately, making it very clear to the reader where and
when
Jackson was.
It's been awhile since I've read a book with a male character lead, and I must say it was very refreshing. I could connect and relate to Jackson just as much as I would with a female character. In fact I built a stronger connection with him than I did with Holly.
The twists, the turns, the highs and the lows definitely made this read a thrilling one.
Tempest
had all the qualities that I love in a novel, and a few surprises along the way.
Final impression:
Packs a lot of punch. A suspenseful page-turner!
If you liked that, try this:
Dark Mirror by M.J. Putney