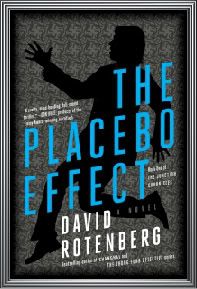 Publisher:
Simon and Schuster
Published:
February 7th, 2012
Challenge:
Blog Tour
Source:
From publisher
Buy the Book:
Amazon
Find the Author:
Website
Decker Roberts has the dangerous gift of detecting the truth (synaesthesia). But when his carefully compartmentalized life starts to fall apart he has to go on the run and figure out why he's being targeted. There's also a government agency hunting him down who seems to know everything about him and other people of "his kind." How will Decker find out which truth was endangering his life? Who betrayed him and revealed all his secrets? Decker needs to find answers quickly, before knowing the truth turns from a gift into a deadly curse.
Being a proud Canadian, I love supporting Canadian authors. When I first learned about
The Placebo Effect
I admit, I was too sure what I was going to think of it.
I must say, I was pleasantly surprised. This book is far from what I usually read, but I always say that it's good to step away from what your used to from time to time.
The Placebo Effect
was one of those cases! First off, I have to mention how much I loved the setting. Toronto being a place I visit very often, it was nice to read a book where I actually
know
the setting. I can actually imagine myself exactly where the characters were. That made for an exciting read!
To me, this book made for a great getaway. It gave the the thrilling reading experience I was looking for.
Q and A with David Rotenberg
What came first for The Placebo Effect: The Characters or the idea of the story?
Hard to know, they sort of grow together. The idea of someone with a profound gift that had a deep price was pretty near the beginning.
What is 'A day in the life of David Rotenberg' like?
I teach actors Sunday and Monday nights and Tuesday and Wednesday afternoons. I have about 20 private students in LA and other places who in every other week and we through auditions or scripts over the phone. On occasion, Scott Speedman comes up to town and he and I bury ourselves in my studio for two days prepping his new films. In the summer I ride a bike and listen to non-fiction books on tape-I waste a lot of time-then wake up at 3 or 4 in the morning and work on an idea. I watch a lot of HBO-Breaking Bad, Dexter, The Wire (when it was on), Boardwalk Empire-I admire the long form of writing going on in those things. Like Tolstoy.
Are you working on anything right now? If so, can you share a little bit about it?
The second book in The Junction Chronicles: A Murder of Crows is now with the publisher. As well I have a subset of two books from Seth's point of view called Seth's Dream that I'd like to move to publication
Here's the opening of the new book:
Ch. Prologue – An Idyll of Thoughts at T – Plus 4 Days and 16 Seconds
THOUGHTS: This is a foolish country. And this town with its obsessively symmetrical old church is ridiculous.
These people believe they will live forever. They hide death behind walls and bury it in places with names like Pleasant Valley and Peaceful Rest. We in the East know that death is neither pleasant nor restful.
Perhaps we spend too much time thinking about our deaths – but death is real. It is the only certainty. And to refuse to confront a certainty is foolishness. A foolishness that all these Americans will be forced to abandon when we force them to understand that Judgement awaits everyone - everyone.
Look at all these kids and their parents. Look at them. So self-satisfied. So convinced they are special – the chosen ones. And they all love America. Well why not? America has made the parents wealthy and is going to make most of these privileged kids rich too. While backed by their military might this horror of a country makes the rest of the world its slaves. And these science profs up there on the stage invented much of the military prowess of this country while these students all around me are preparing to take their places.
All are soldiers of the oppressor.
But there will be justice – even here, on this pampered campus in Upper New York State there will be justice. It will come – as surely as putting NAME OF CHEMICAL together with NAME OF CHEMICAL will cause a massive explosion – it will come.
What books are waiting to be read on your bookshelf?
Salisbury's The 900 Days, Jack Miles' Christ: A Crisis in the Life of God, the new James Lee Burke book (Feast Day of Fools), the new Stephen King book (11/22/63).
Thanks, David. It's a pleasure having you!
David Rotenberg has been a master acting teacher for over 20 years. He has directed on Broadway, in many major regional theatres, for television, and he has published six novels, including the Zhong Fong detective series, all of which are available at your local bookstore or online. The series is in the process of being optioned for film.
David has taught at York University, the National Theatre School of Canada, the Shanghai Theatre Academy, the University of Cape Town, and Princeton. He regularly teaches professional classes in Montreal, Vancouver and Halifax. He directed the first Canadian play in the People's Republic of China. Most recently, David has directed at Penn State University and at York University, where he adapted and directed a stage version of F. Scott Fitzgerald's The Great Gatsby.
The roster of his students reads like a who's who in ranks of Canadian actors, including Scott Speedman, Rachel McAdams, James McGowan, Polly Shannon, David Hirsh, Jonas Chernick and Shawn Doyle. His unique techniques are used by actors in Canada, the United States, the United Kingdom, South Africa and the People's Republic of China.